Flamboyant, eccentric, charming and with a stunning voice!…Jeff Duff is one of the greatest entertainers Australia has produced.
Molly Meldrum
Outstanding arrangements, integrating the orchestral instruments in ways that are much more sophisticated than the usual ploy. Over it all climbed Duff's big booming voice – truffle-rich, capable of arching over 16 surging instruments. The packed audience was enraptured
John Shand, Sydney Morning Herald
I don't think it's overstating the case to say that, had Jeff Duff hailed from a country in the top half of the world, he could now be as acknowledged and acclaimed as David Bowie or Lou Reed or Iggy Pop
Glenn A. Baker
Jeff Duff's Brand New Album for 2023, Being Jeff Duff!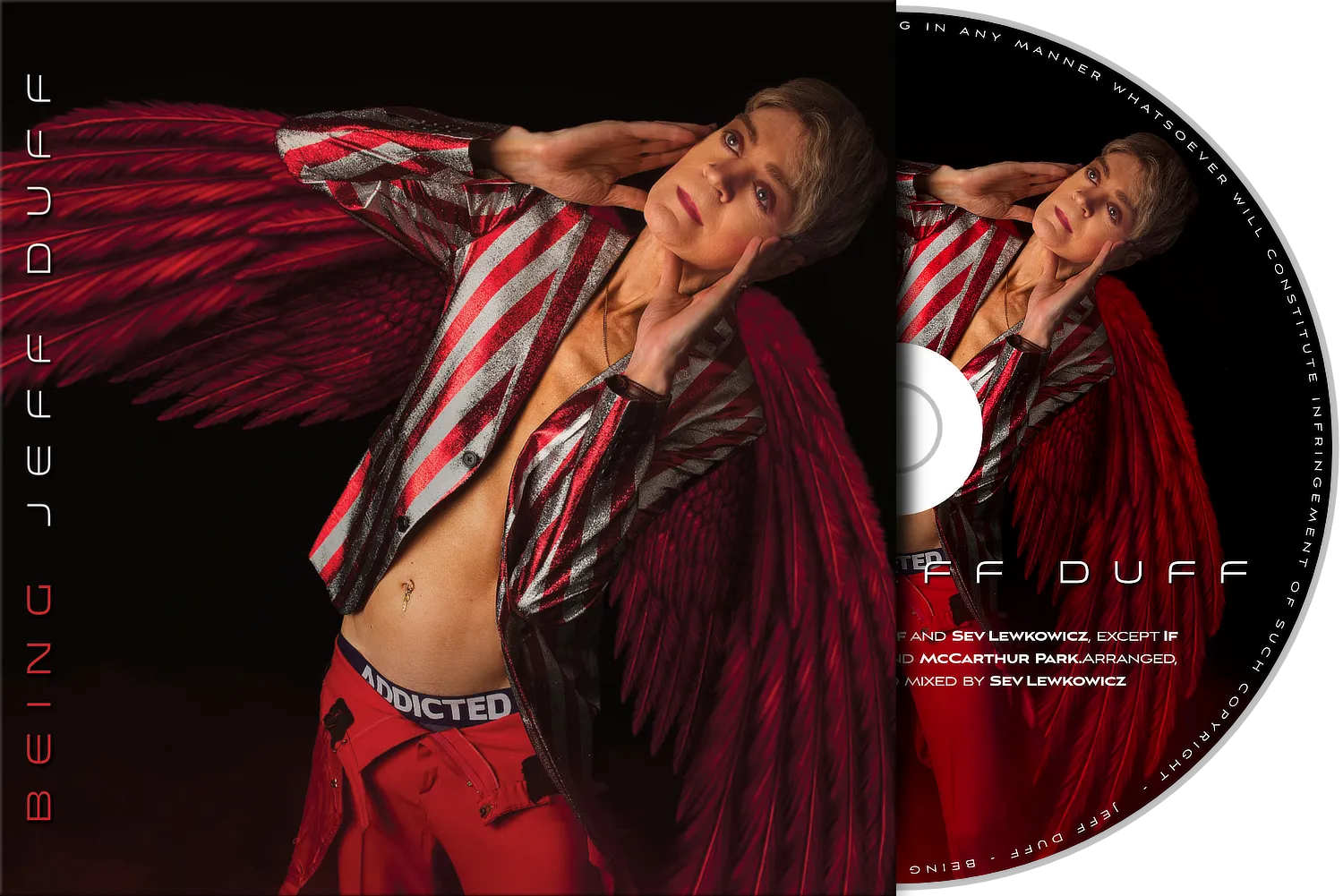 Jeff's new album for 2023, Being Jeff Duff, was co-written with Sev Lewkowicz. and features Jak Housden, Glenn Rhodes, Dave Ball, David Sherrington and Mike Lichtman. Arranged, Recorded, Produced and Mixed by Sev Lewkowicz in the UK, the album features 10 brand new songs, and Jeff's classic cover of Macarthur Park.
In a flamboyant and often controversial music career Jeff Duff has released twenty-eight albums including a recent album with members of legendary British rock band Deep Purple.
When Duffo took refuge in England in the eighties, he had, as they say, worn out his welcome in Australian rock. He was simply too much of a handful, this 'waif with a wharfie's voice!' camping it up out front of his trail-blazing rock ensemble 'Kush'. At the time, Jeff's androgynous stage persona, dressed in leotards, garish make-up and a touch of the operatics was considered far too outrageous for many Australian audiences.
Sinatra, Presley, Jagger, Popeye
Jeff quickly established himself in the UK and became the darling of London's new wave movement during the eighties staying one step ahead of his peers with his flamboyant performances. The exhibitionism and visual assault so integral to British punk culture could have been a sequence from Duffo's own fertile imagination. Soon Andy Warhol was issuing forth his oft-quoted utterence: "Sinatra, Presley, Jagger, Popeye…and now Duffo" Duffo returned to Australia in the late eighties to re-introduce his powerful voice and unique style to the local scene. His recording and accompanying video of Lou Reed's 'Walk on the Wildside' helped re-establish his career in oz and has become an Australian classic.
Jeff Duff's leading role in the sc-fi movie 'Sons of Steel' also won many plaudits for his comical portrayal of 'Secta', a space-age scientist.
The movie has become a cult classic and is still being screened at major Film Festivals. A theatrical extravaganza called 'Ground control to Frank Sinatra' which Jeff created and starred in, fused the music of Bowie with the music of Sinatra, became a huge hit with fans, selling out a season at the Opera House studio in 2005. Jeff's recent lead role in 'Genius', the Ray Charles gospel show staged in Melbourne was acclaimed by critics."Duff was truly magnificent!…How such an extraordinarily soulful voice can come out of such a skinny white guy is beyond me" [PBS FM Radio Melb] Jeff's longtime admiration for David Bowie eventually led him to staging the first 'Ziggy' show in Australia in the nineties, and now the Bowie Unzipped band touring Australia.